A real sense of history accompanies some pieces of furniture that come in to be reupholstered. Even ones without antiquity or an iconic designer's name attached - but good pieces that would be difficult to replace in today's market. While it's tempting to turn this post into commentary on what I think to be a degraded furniture market, hopeful signs of economic turnaround and return to quality, small-maker goods or demise of factory union labor and deregulation - these chairs have completely captured my imagination because of the historical clues that remain - original fabric and furniture store labels. The afternoon will see them met with full renewal, but as in all takedown-and-reupholster projects, as you peel away the layers a sense of mort pervades. Upholstering is sometimes like being an undertaker - hense, the origin of the term upholsterer - to "uphold" to "undertake" the upholding of home or estate. Something like that - the Research Staff knows for sure and they're not back from lunch yet... Maybe it's the combo sunny/sad sounds of Nick Drake's "Bryter Layter" as the workroom's soundtrack today. Have a listen to this musical interlude while you read this post and view the images...
| | |
| --- | --- |
| | |
The frames need some reglueing but that's nothing. The wood boards or slip-seat bases are perfectly good - only 1 reupholstery job over the years. The old picture is from Minnesota History Center's photo data base - I feel lucky in finding them. Often the search for images of manufacturers or retailers turns up nothing. But this is R N Cardozo & Bro's, Inc. furniture store going up in downtown St. Paul MN circa 1931.
Here's what the corner of E. 7th and Minnesota St. looks like today ... or after

...this was before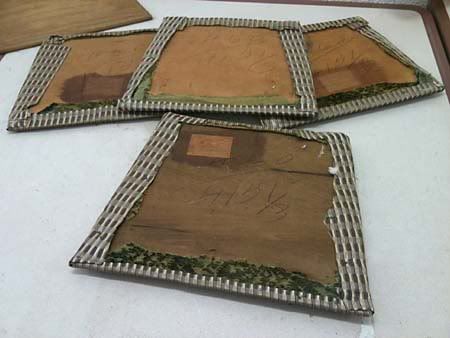 The face of the original fabric, a kind of abstract cut velvet made me wish we were upholstering with my current favorite Brunschwig & Fils, "Arboretum Figured Velvet". How gorgeous would this be? But it really wouldn't be as nice in the customer's home as the one they've chosen, Osborne & Little's Papilio Plain, a very hearty fabric perfect for another long life around the table.
Just look at the style of these from a picture taken 1931 of the store's stock. It's so much fun to see in an old image, practically the same chair being made new again today, 80 years on!